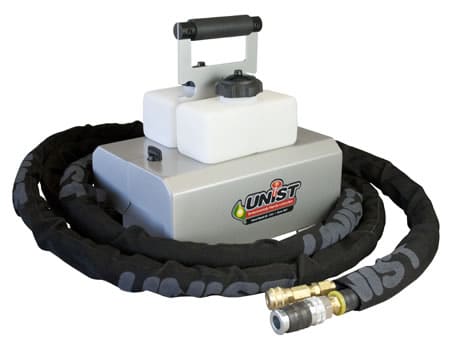 Positive-feed drill lubrication
Reliable cutting tool lubrication
Portable design & comfort-grip handle
Ensures proper air motor lubrication
For oil & water-based lubricants
Built-in hose storage
Low pressure drop
Typhoon portable, automatic lubrication for aerospace drilling
The Typhoon™ is designed to keep pace with the demands of airframe drilling. The pneumatic positive and peck-feed drill systems used in these applications endure constant use and must deliver top performance in an industry where precision is critical. The Typhoon™ allows airframe builders to lubricate their drills and protect their air motors in one portable, mobile and productive unit.
From the instant you pull the air tool's trigger, the dual-output Typhoon™ delivers the proper amount of lubricant to protect both your cutting tool and the air motor. Its compact design, built-in hose storage, and ergonomic handle make the Typhoon ™ easy to transport and operate. Simple, independent adjustment of air and fluid flow rates means the system can provide proper lubricant for a broad variety of different cutting tools and materials.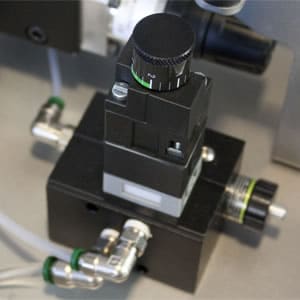 Easy adjustment of air & fluid rates
The Typhoon™ makes on-the-fly adjustments quick and easy with large, easy-to-read knobs for air and fluid.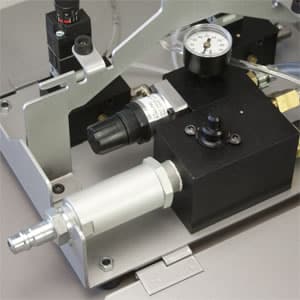 Fully-integrated flow sensor & air pilot valve
Flow sensor and an air pilot valve are integrated into manifold blocks improve serviceability. Manifold-mounted pressure regulator w/gauge controls air-flow to the cutting tool for increased accuracy and adjustment for different tool sizes.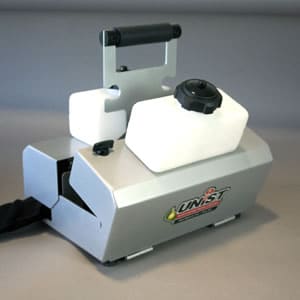 Durable, industrial design
Rugged design built to provide years of performance in tough conditions.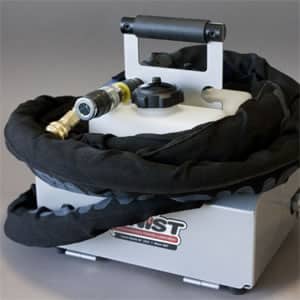 Comfort-grip handle with integrated hose storage
Durable, comfort grip makes for easy carrying. The system's hose is easily wrapped around the unit and secured with built-in clips.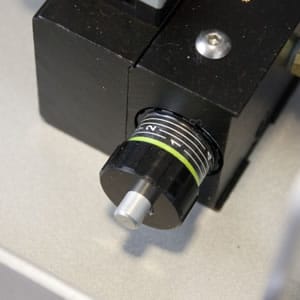 Reliable positive-displacement pump
The Typhoon™ features Unist's reliable MV pump which is built to dispense a wide range of fluids and provide a long service life.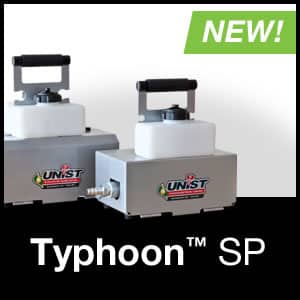 Now available: Typhoon™ SP
Same performance, compact package. Ideal for drilling in tight quarters (shown with standard Typhoon™ (left) for size comparison. )
Features, Specs & Options
Reliable cutting tool lubrication
Portable design & comfort-grip handle
Ensures proper air motor lubrication
For oil & water-based lubricants
Built-in hose storage
Low pressure drop
Easy, external pump priming
---

Unist MV Pump Max Fluid Viscosity:

1300 SUS Max (1-drop pump), 500 SUS Max (2-drop pump)

---

Min/Max Air Pressure:

---

Unit Weight:

32 lbs (14.5 kg) approx - varies with hose length

---

Hose Length:

10 - 20' (3 - 6 M) - made to order

---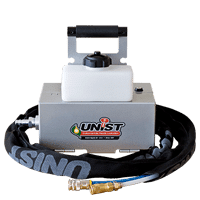 Typhoon™ SP
The Unist Typhoon™ SP system features all of the improvements of the recently redesigned Typhoon™ system, but in a smaller more compact package. The Typhoon™ SP is used for applications where lubrication is only required for the cutting tool. It features the proven and efficient Typhoon™ flow sensor and MV pump, but in a new rugged enclosure that is both more compact and lighter than the standard Typhoon™ system.
Learn how to rebuild your MV (Multi-Viscosity) pumps.
Tips & Tricks of Working with Coaxial Tubing
Learn tips for working with coaxial tubing.
Priming A Pump-Based MQL System
In this how-to video, the procedure for priming a pump-based MQL systems is outlined
Working With The Redesigned Capillary Splicer
Learn how to replace nozzles, shorten or replace co-axial hose or retrofit your system to use the improved capillary splicer design.
Testimonial Video - Sigma Machine
Tia Stevenson from Sigma Machine talks about the Quantum™ and Coolube® lubricants.
In this MQL Minute, John and Larry discuss Unist MQL systems with multiple outputs.
Unist multi-viscosity (MV) pumps are discussed in this MQL Minute.
Learn how to best position your nozzles for milling operations in this MQL Minute.
Setting Up Your Coolubricator System
Learn how to do initial setup on a Coolubricator™ system.
In this MQL Minute, John and Larry discuss the differences between Unist Coolubricator™ and Serv-O-Spray™ systems
An introduction to Minimum Quantity Lubrication (MQL).
John and Larry take a look at some dry chips in the Unist shop.
This MQL Minute provides a general overview of Unist MQL (Minimum Quantity Lubrication) systems.
Installing Coax Nozzles & Splicer Pins
This video demonstrates how to install co-axial nozzles and splicer pins in a Unist MQL system.