Sheet Lubrication System™
Proven precision & performance
Originally designed for easy integration into Crown multi-die lines, the Unist Sheet Lubrication System™ has found unparalleled success when implemented on various types of sheet fed presses in can end making applications. The amount of fluid applied by the SmartFlow® controller is completely programmable and the patented internally fed rollers provide a consistent coating across each sheet. The rollers are typically slave driven from the sheet feed system so they are synchronized with the rate of the press.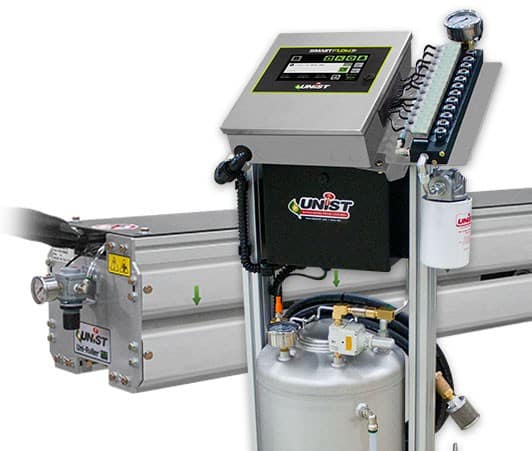 A cleaner press, reduced fluid consumption, and decreased downtime from inadequate lubrication are just some of the benefits of implementing the Unist Sheet Lubrication System.
Even & consistent fluid application across the entire sheet
Reduced fluid consumption
Increased production rates
Compatible with a wide variety of fluids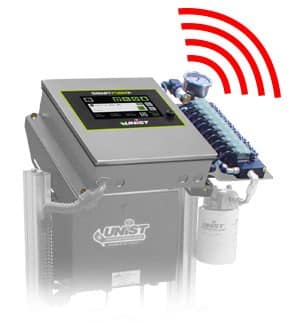 The SmartFlow® provides full-featured monitoring of critical parameters such as fluid level, pressure and flow (optional sensors are required) and alerts users with an audible alarm and red LED. An external alarm relay can also be wired directly to a press control.
Typical Unist Sheet Lubrication installations: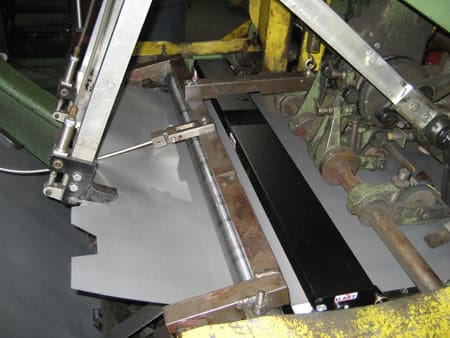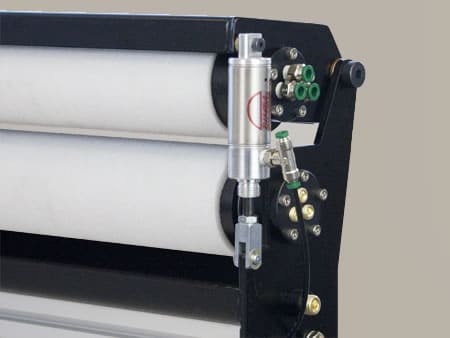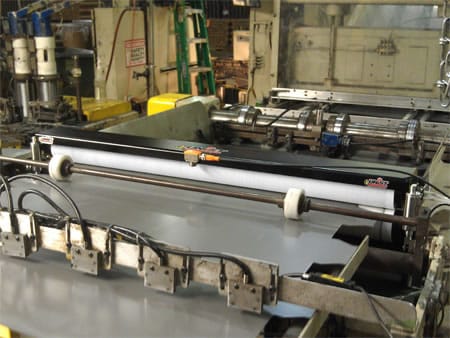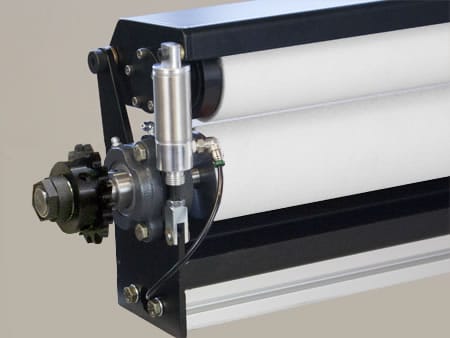 Features, Specs & Options
Even & consistent fluid application across the entire sheet
Reduced fluid consumption
Increased production rates
Compatible with a wide variety of fluids
---

Stock type:

---

Stock thickness:

.002" - 0.10" (.05mm - .25mm)

---

Stock width:

---

Fluid type(s):

For use with vanishing fluid or low viscosity oil (oils from 30 SUS to 150 SUS). Not designed for use with water soluble lubricants.

---

Applicator material:

---

Fluid supply/capacity:

10 US gal (37L) ASME rated stainless fluid tank

---

Air supply:

Clean, dry, compressed air:
80-90 psi (5.5 - 6.2 bar). 25 SCFM (708 SLPM) minimum

---

Interface:

4-line x 20 character LCD with 21-button tactile membrane switch

---

Fluid outputs:

---

Control inputs:

2 (dry contact/switch closure, prox sensor 10-30 VDC NPN, N.O.)

---

Alarm inputs:

2 (dry contact/switch closure, prox sensor 10-30 VDC NPN, N.O.)

---

Outputs:

22 max at power supply voltage. Max power 10 watts/output

---

Alarm relay:

Isolated, non-fused single pole, double throw; 2 amp load max

---

Max input rate:

50 cycles/sec at 50% duty cycle. Minimum contact open or closed time: 10 milliseconds

---

Programmable ranges:

Count (CNT): 0-255 counts Delay (DEL): 0-100 secs (.010 second increments) Duration (DUR): 0-100 seconds (.010 second increments)

---

Fuses:

Supply: 2 amp, Output: 5 amp

---

Operating temp. range:

0° to +50°C (+32° to +122°F)

---

Storage temp. range:

-20° to +70°C (-4° to +158°F)

---

Storage:

---

Power:

120VAC - 50/60hz or 240VAC - 50/60hz 9.5 amps

---
Learn how to create setups (jobs) in this installment of the Metal Forming Minute