Powercool™ System for water-soluble fluids
High-velocity thru-the-tool system
Applies fluid directly into tool/work interface
Removes chips from interface
Compact, versatile design
Available in 2, 6 or 15 gallon tank capacity
Can work with a central lubricant supply
Depressurizes easily for quick & easy refilling.
Actuation by manual valve, solenoid valve, or air-pilot valve.
Custom built for your application
Thru-the-tool for water soluble fluids
The Powercool™ system is the only mist coolant system of its kind. It was designed for water-soluble fluids used on fixed machine tools with coolant inducers or hollow spindles. Powercool™ lets you apply coolant directly at the tool-work interface. Expanded compressed air cools tooling and helps remove chips from the cutting interface. The mist coolant lubricates flutes, holes and chips to improve hole quality.
The system operates with a single air supply source at 80-100 psi. Coolant is fed from the supply tank to the control station and then delivered in regulated amounts through to the coolant inlet at the tool or spindle.
The Powercool™ system dispenses water-soluble coolants to reduce heat. Water vapor evaporation absorbs heat so tools cool faster. Water-soluble coolants are also used to maintain compatibility with flood coolants used on the same machine.
Powercool™ applications
Fixed machine tools using:
Coolant inducers
Hollow spindles
Features, Specs & Options
High-velocity thru-the-tool system
Applies fluid directly into tool/work interface
Removes chips from interface
Compact, versatile design
---

Injector Output:

1 Drop (0.05 mL) per pulse

---

Pump Rate:

4 to 200 cycles per minute

---

Inlet Air:

---

Reservoir Capacity:

25 mL or 55 mL (500 or 1100 pump cycles)

---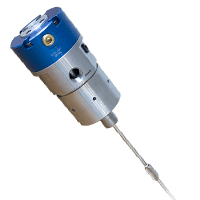 Unist Spindle Kit
To get the best through-spindle MQL performance, it is necessary to deliver the lubricant and air in separate channels through the spindle to the tool holder. The Unist Spindle Kit includes two specially-designed components: a rotary union and a fluid delivery tube.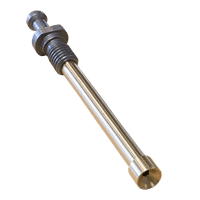 Unist Tool Holder Kit
Unist MQL Tool Holder Kits fit into most common CAT and BT style tool holders. The MQL optimized retention knob and MQL tool holder insert ensure proper aerosol delivery from the end of the spindle to the shank of the tool.
John and Larry take a look at some dry chips in the Unist shop.