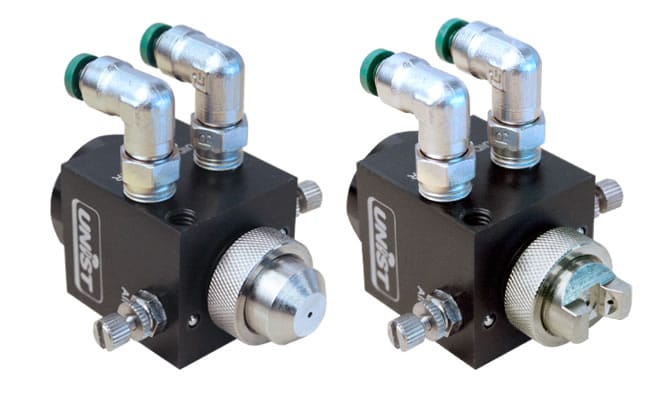 Versatility & Control
Applications:
Spraying disinfectants.
Spraying rust inhabitants.
Roll forming applications.
Metal stamping.
When you need precise control of your lubrication spray, the Unist Low Volume Spray Nozzle delivers with a consistent and controlled spray pattern. The air and fluid volumes are controlled independently by precision needle valves allowing you to fine tune the spray to your specific needs.  An integral valve at the nozzle tip means our system features immediate on and off control which eliminates lag and prevents messy fluid drips.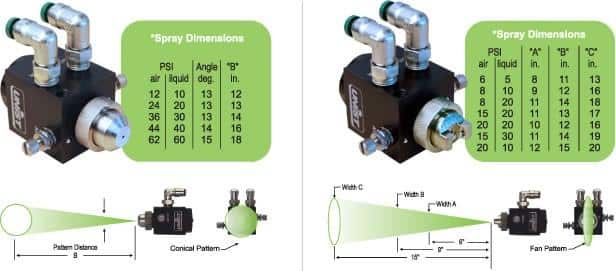 Control & Monitor Multiple Nozzles
Combine your Unist Low Volume Spray Nozzles with a Unist SPR-2000 programmable controller and pressure tank for precise control of spray frequency and duration.
The SPR-2000 is capable of controlling 22 independent Low Volume Spray Nozzles and monitoring critical parameters such as fluid level, fluid pressure, and flow and is a great choice for controlling your present and future stock lubrication systems.
Mounting Options
Create your own mounting solution with our Modular Mounting System!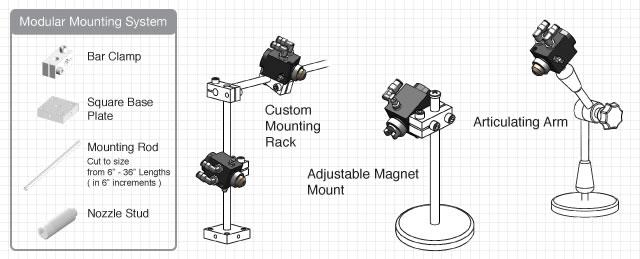 Features, Specs & Options
Valve at nozzle tip eliminates messy drips
Immediate on/off spray control ( no lag )
Fine control of spray pattern
Individual air & fluid control
Air actuated
Available with internal or external mix tip
---

Fluid type:

For use with a broad range of water soluble and neat lubricants. Viscosity from 30 – 1000 SUS. Thicker lubricants can be tested by Unist for compatibility.

---

Air supply pressure:

30-100 psi (2-7 Bar) Dry, filtered compressed air

---

Fluid supply pressure:

---

Maximum cycle rate:

---

Operating temp range:

---

Body:

---

Needle valves:

---

Fittings:

---

Fluid seal material:

---

Air seal material:

---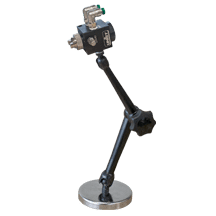 Articulating arm
Easily adjust and lock nozzle position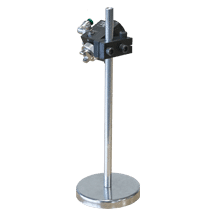 Adjustable magnet mount
Mount nozzle to a magnetic surface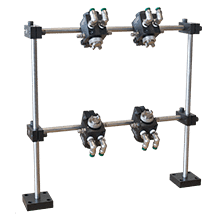 Modular mounting system
Create your own mounting solution with our modular mounting system.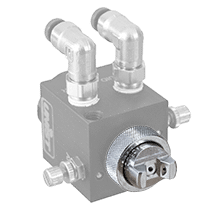 Fan spray tip
The fan spray tip converts the Low Volume Spray Nozzle into a precision coating applicator. Multiple nozzles can be ganged together to cover wide areas with overlapping fan spray.
Conical spray tip
The Low Volume Spray Nozzle with conical spray tip provides the perfect spray pattern for spot lubrication or coating.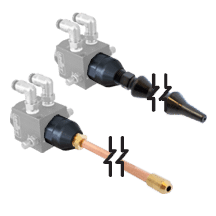 Extended nozzle
Allows the Low Volume Spray Nozzle to reach tight areas. Available in rigid copper or flexible plastic.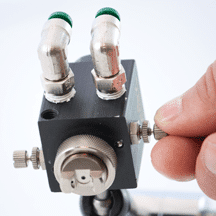 Standard adjustment
Adjust the fluid and air right at the nozzle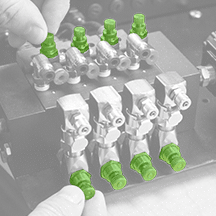 Remote adjustment
Adjust the fluid and air at the remote adjustment solenoid valve bank on the SmartFlow® programmable fluid controller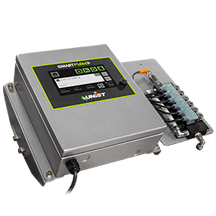 Learn how to rebuild your MV (Multi-Viscosity) pumps.
Tips & Tricks of Working with Coaxial Tubing
Learn tips for working with coaxial tubing.
Priming A Pump-Based MQL System
In this how-to video, the procedure for priming a pump-based MQL systems is outlined
Working With The Redesigned Capillary Splicer
Learn how to replace nozzles, shorten or replace co-axial hose or retrofit your system to use the improved capillary splicer design.
Testimonial Video - Sigma Machine
Tia Stevenson from Sigma Machine talks about the Quantum™ and Coolube® lubricants.
In this MQL Minute, John and Larry discuss Unist MQL systems with multiple outputs.
Unist multi-viscosity (MV) pumps are discussed in this MQL Minute.
Learn how to best position your nozzles for milling operations in this MQL Minute.
Setting Up Your Coolubricator System
Learn how to do initial setup on a Coolubricator™ system.
In this MQL Minute, John and Larry discuss the differences between Unist Coolubricator™ and Serv-O-Spray™ systems
An introduction to Minimum Quantity Lubrication (MQL).
John and Larry take a look at some dry chips in the Unist shop.
This MQL Minute provides a general overview of Unist MQL (Minimum Quantity Lubrication) systems.
Installing Coax Nozzles & Splicer Pins
This video demonstrates how to install co-axial nozzles and splicer pins in a Unist MQL system.