Integrated Fluid Supply System – 10SS™
The 10SS integrated fluid supply system is designed to deliver an uninterrupted supply of pressurized fluid to Unist precision fluid applicators. The system consists of an integrated PLC, 10 gallon stainless steel pressure tank, precision pressure regulator, optional tank immersion heater, and the ability to automatically refill by means of valve or pump.
The 10SS system can deliver fluid at a consistent pressure to an existing fluid supply network. The integrated PLC monitors tank temperature and level and automatically tops up the tank when low.
The system can be refilled from a drum or tote with the built in refill pump. The 10SS is the best supply for neat or premixed fluids. Use the 10SS to feed one or several SmartFlow® fluid controllers in a metal forming plant or use it as a bulk supply of MQL cutting oil for Quantum systems equipped with automatic refill.
Features, Specs & Options
Uninterrupted fluid supply
Maintains consistent pressure
Monitors tank temp. & fluid level
Automatic refill capability
---

Capacity:

---

Fluid output pressure:

---

Refill pump flow rate:

---

Power:

---

Monitoring:

Monitoring of refill function

---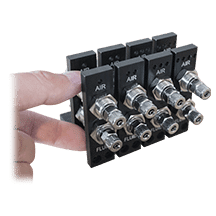 In-die quick connect
Allows for permanent spray nozzle mounting to the die. Ensures nozzles remain in correct position with each die change.
Learn how to rebuild your MV (Multi-Viscosity) pumps.
Tips & Tricks of Working with Coaxial Tubing
Learn tips for working with coaxial tubing.
Priming A Pump-Based MQL System
In this how-to video, the procedure for priming a pump-based MQL systems is outlined
Working With The Redesigned Capillary Splicer
Learn how to replace nozzles, shorten or replace co-axial hose or retrofit your system to use the improved capillary splicer design.
Testimonial Video - Sigma Machine
Tia Stevenson from Sigma Machine talks about the Quantum™ and Coolube® lubricants.
In this MQL Minute, John and Larry discuss Unist MQL systems with multiple outputs.
Unist multi-viscosity (MV) pumps are discussed in this MQL Minute.
Learn how to best position your nozzles for milling operations in this MQL Minute.
Setting Up Your Coolubricator System
Learn how to do initial setup on a Coolubricator™ system.
In this MQL Minute, John and Larry discuss the differences between Unist Coolubricator™ and Serv-O-Spray™ systems
An introduction to Minimum Quantity Lubrication (MQL).
John and Larry take a look at some dry chips in the Unist shop.
This MQL Minute provides a general overview of Unist MQL (Minimum Quantity Lubrication) systems.
Installing Coax Nozzles & Splicer Pins
This video demonstrates how to install co-axial nozzles and splicer pins in a Unist MQL system.