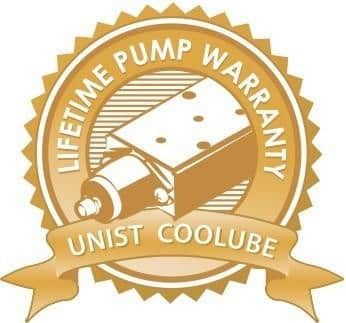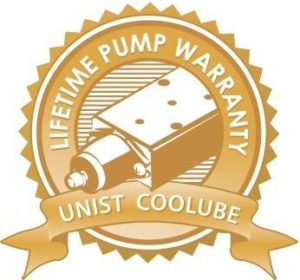 More information: Life Time Warranty
So what enables us to have such confidence in our pumps to stand by this statement? We claim that our pumps are  99% reliable in performance and are 99% maintenance free. How can we do this I hear you say.
Unist uses only the finest material in our pumps; stainless steel, brass, aircraft-grade aluminium, and Viton for the seals. This makes the pumps able to withstand the most arduous environments. Further to this, Unist machines to the closest tolerances for all the components that make up our pumps. This is how we can confidently offer our lifetime warranty.
Unist Australia is proud to offer a lifetime warranty on the positive displacement pumps in MQL systems when Coolube® products are used exclusively. To receive this warranty service, you must use solely Unist Coolube® in your Unist system and must register for the lifetime warranty by sending in the provided warranty card.
Changing from Alucobond/Composite panel to Solid Aluminium Sheet
Do you find yourself having to Route 3mm solid Aluminium sheet in preference to Alucobond/Composite panel? If you are experiencing any of the following you need to talk to our John Barker (Managing Director) of Unist Australia.
Ragged cutting
Burning out cutters
Breaking router bits
Terrible surface finish
Just the inability to get the job done
We understand your problem, you need to lubricate the routing cutter with our 3 nozzle Coolubricator.
For help on this matter call John Barker on 02 8850 2022 or email [email protected].
Watch a Routing video: https://unist.com.au/routing
The facade industry is moving in part from ACM to Solid Aluminium panels. HVG/Alucobond Architectural are introducing MondoClad, a Pre-finished 3 mm aluminium panel.For more information go to: