Uni Roller Type S Product Flyer
Uni-Roller® Type S roller lubricator applies continuous lubrication for a broad range of applications
Applies the precise amount of lubrication to your coil stock at line speeds greater than 100 ft. per minute (30.5 m/minute). Patented design is an unsurpassed solution for metal forming applications when combined with a SPR-2000™ or SPR-2000-JR™ programmable fluid controller.
Delivers return on investment in less than six months. That's what many of our customers report. By applying the proper amount of fluid, the Uni-Roller® roller lubricator uses 50 to 90% less lubricant. Plus it decreases the mess, the parts cleaning, fluid recycling and costs associated with in-die spray systems, rag technology and externally lubricated rollers.
Adds life to tool and die components. Part quality improves. Production speeds increase.
Comes in two versions:

Pneumatic roller pressure models available for stock widths from 3 to 69.50 in. (76 mm-1765 mm).
Compact spring latch roller pressure models available for stock widths from 3 to 12 in. (76 mm-305 mm).

Offers almost limitless sizes over the standard 69.50 in. (1765 mm) width. Unique modular design staggers and overlaps multiple 12 in. (305 mm) wide roller sets for widths over 18 in. (457 mm).
Unist ships parts and accessories within 24 hours of order receipt. Fluid Supply Systems, Roll Covers, Spray Nozzles, Sheet Guides, etc., are in stock and ready to ship. Read more.
Start saving now. Let our lubricant consultants show you how a Uni-Roller® Type S roller lubrication system can stop the mess and waste of traditional lubrication. Contact us today.
---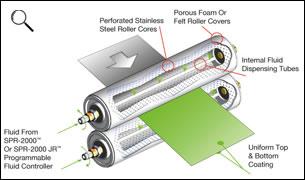 All Uni-Roller systems feature a patented, internally fed roller design. This is the key to uniform and efficient fluid application. As illustrated, inside each of the rollers there is a dispenser tube with several small holes spaced along its length. Every time the fluid is injected into the dispenser tubes from the fluid controller, it is dispensed evenly across the inside of the roller through these holes.
The lubricant is then transferred to the stock through a durable polyester felt or polyurethane foam roller cover. These cover materials apply the lubricant smoothly and evenly across both the top and bottom of the stock. As the system continues to cycle, additional lubricant is injected into the rollers to replenish the lubricant applied to the stock. The advantage of this system is consistent application of the exact amount of lubricant required for any particular operation.
Roller lubrication system applications:
Punching
Stamping
Roll forming
Fine blanking
Deep drawing
Application of rust preventives and other protective coatings
---
Uni-Roller® HG option
The Uni-Roller® HG option adds an articulating chassis to our Uni-Roller® Type S system. The upper rollers can be raised or lowered to accommodate deformities in the head or tail of coil stock. This prevents damage to the lubricator and facilitates easier loading.
Accommodates stock thicknesses from .030″ – .350″ (0.8mm – 8.9 mm)
Lubricates stock widths from 12″ – 72″ (304.8mm – 1828.8mm)
The Uni-Roller® HG can open a full 6″ for stock loading or to avoid deformities. Opening/closing can be controlled by a simple switch or solenoid valve. Opening the system also facilitates quick and easy roller cover changes.
[column size="one-third"]
[/column][column size="one-third"]
[/column][column size="one-third" last="true"]
[/column]