Perfect for line speeds less than 100ft. per minute
Smooth and even coating for top and bottom of stock
Available in pneumatic or spring-latch
Eliminates the mess of spray systems
Uni Roller Type C Product Flyer
Uni-Roller® Type C applies continuous lubrication at slower production speeds.
Performs as the perfect solution for line speeds less than 100 ft. per minute (30.5 m/minute) or for low-budget operations. The patented design features a positive displacement lubricant pump that injects lubricant once per roller revolution into the roller so it delivers the right amount of lubricant every time. Because the roller drives the pump, the output is directly proportional to the feed rate. It will adjust the lubricaton amounts as the line speed changes.
Coats the top and bottom surfaces of stock smoothly and evenly. A dispenser tube with holes spaced along its length runs inside each roller. Lubricant is transferred to the stock through polyester felt or polyurethane foam covers.
Eliminates the mess and waste associated with in-die spray systems and externally lubricated roller systems. Keeps your shop cleaner and lowers overhead costs, too.
Comes in two different versions:

Pneumatic roller pressure models for stock widths from 3 to 23.5 in. (76 mm to 597 mm)
Compact spring latch roller pressure models for stock widths from 3 to 12 in. (76 mm-305 mm).

Unist ships parts and accessories within 24 hours. Fluid supply systems, roll covers, spray nozzles, sheet guides, etc are in stock and ready to ship. Read more.
Slashes lubricant usage by up to 50%. Let our lubricant consultants show you how to reduce the mess and waste on your slower machines. Contact us today.
---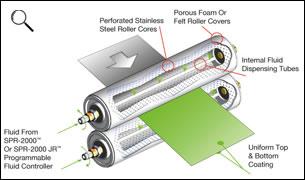 All Uni-Roller systems feature a patented, internally fed roller design. This is the key to uniform and efficient fluid application. As illustrated, inside each of the rollers there is a dispenser tube with several small holes spaced along its length. Every time the fluid is injected into the dispenser tubes from the fluid controller, it is dispensed evenly across the inside of the roller through these holes.
The lubricant is then transferred to the stock through a durable polyester felt or polyurethane foam roller cover. These cover materials apply the lubricant smoothly and evenly across both the top and bottom of the stock. As the system continues to cycle, additional lubricant is injected into the rollers to replenish the lubricant applied to the stock. The advantage of this system is consistent application of the exact amount of lubricant required for any particular operation.
---
Uni-Roller® Type C applications:
Punching
Stamping
Roll forming
Fine blanking
Deep drawing
Application of rust preventives and other protective coatings.