Uni-Roller® Type C Intelligent stock coating solutions
Performs as the perfect solution for line speeds less than 100 ft. per minute (30.5 m/minute) or for low-budget operations. The patented design features a positive-displacement lubricant pump that injects lubricant once per roller revolution into the roller so it delivers the right amount of lubricant every time. Because the roller drives the pump, the output is directly proportional to the feed rate. It will adjust the lubrication amounts as the line speed changes.
Perfect for line speeds less than 100ft. per minute
Smooth and even coating for top and bottom of stock
Available in pneumatic or spring-latch
Eliminates the mess of spray systems

On average, a Unist system can reduce stamping fluid consumption by 50%
---
Uni-Roller® Type C applications:
Punching
Stamping
Roll forming
Fine blanking
Deep drawing
Application of rust preventives and other protective coatings.
Delivers return on investment in less than 6 months
That's what many of our customers report. By applying the proper amount of fluid, the Uni-Roller® lubricator uses 50 to 90% less lubricant. Plus it decreases the mess, the parts cleaning, fluid recycling and costs associated with in-die spray systems, rag technology and externally lubricated rollers.
Cam-driven pump
At the heart of the Uni-Roller® Type C system is a positive displacement pump which precisely dispenses the lubricant to the rollers. The output of this pump is fully adjustable so it can be tailored to any operation. This pump is operated once per roller revolution by a cam on the end of the roller. As a result, the system always supplies the proper amount of lubricant regardless of material feed rate. Because the roller drives the pump, the output is directly proportional to the feed rate of the stock without requiring the added expense of electronic controls.
Available widths
Uni-Roller® Type S systems with spring-latch roller pressure are available in 3 in. (76mm), 6 in. (152mm), and 12 in. (305mm) widths. Type S systems with pneumatic roller pressure are available in 3 in. (76mm), 6 in. (152mm), 12 in. (305mm), 18 in. (457mm), and 23.5 in. (597mm) widths
2 roller pressure methods:
---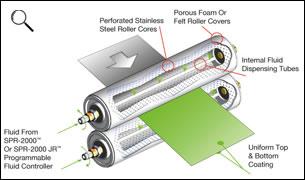 The Internally-fed difference
All Uni-Roller systems feature a patented, internally fed roller design. This is the key to uniform and efficient fluid application. As illustrated, inside each of the rollers there is a dispenser tube with several small holes spaced along its length. Every time the fluid is injected into the dispenser tubes from the fluid controller, it is dispensed evenly across the inside of the roller through these holes.
The lubricant is then transferred to the stock through a durable polyester felt or polyurethane foam roller cover. These cover materials apply the lubricant smoothly and evenly across both the top and bottom of the stock. As the system continues to cycle, additional lubricant is injected into the rollers to replenish the lubricant applied to the stock. The advantage of this system is consistent application of the exact amount of lubricant required for any particular operation.
---
Specifications:
Stock type: slowly-fed coil stock
Stock thickness: .02″ – 0.10″ (.51mm – 2.54mm)
Stock width: 3″ – 23″ (76mm – 584mm)
Fluid type(s): For use with low-to-mid viscosity lubricants (30 SUS to 200 SUS). Not designed for use with vanishing fluids or thick lubricants
Fluid supply: 6Q (5.7L) reservoir, 3gal (11.4L) non-pressurized reservoir, 55 gal (208L) drum sump tube. Not designed for use with pressurized fluids
Applicator material: polyester felt or polyurethane foam
Controller: NA
Power: NA
Mounting: 5/16-18 t-nuts supplied in bottom extrusion slots allow for multiple mounting options. 2 t-nuts per slot provided.
Upgrade to Uni-Roller® Type S & take control with the SPR-2000™
The SPR-2000™ alerts you to issues before they become expensive problems that interrupt or stop your production lines. With the SPR-2000™ you'll know immediately if the fluid supply runs low, if fluid pressure varies, or if flow to the applicator is interrupted (Level, pressure, and flow sensors required). The SPR-2000™ features an intuitive, easy-to-use interface as well as an access code to prevent unauthorized tampering or changes in fluid settings.
To enjoy programmable control with the SPR-2000™, consider upgrading to a Uni-Roller® Type S system!
Changing from Alucobond/Composite panel to Solid Aluminium Sheet
Do you find yourself having to Route 3mm solid Aluminium sheet in preference to Alucobond/Composite panel? If you are experiencing any of the following you need to talk to our John Barker (Managing Director) of Unist Australia.
Ragged cutting
Burning out cutters
Breaking router bits
Terrible surface finish
Just the inability to get the job done
We understand your problem, you need to lubricate the routing cutter with our 3 nozzle Coolubricator.
For help on this matter call John Barker on 02 8850 2022 or email [email protected].
Watch a Routing video: https://unist.com.au/routing
The facade industry is moving in part from ACM to Solid Aluminium panels. HVG/Alucobond Architectural are introducing MondoClad, a Pre-finished 3 mm aluminium panel.For more information go to: