[tabs]
[tab title="About"]
Revolutionary MQL Technology
The Uni-Max Revolution™ is the world's first integrated, programmable Minimum Quantity Lubrication (MQL) applicator designed specifically for CNC machines. Its patent pending technology brings the same level of computer controlled accuracy, precision, and repeatability to your cutting tool lubrication as the CNC controls bring to your machining operations
The system can be configured with one or two oil/air outputs which can be used for either external spray nozzles or through the spindle lubrication. The output volume of the Uni-Max Revolution™ can be tailored to each tool in a machine directly from the CNC program, allowing for optimization of each machining process.
Uni-Max Revolution™ Saves You Money!
The Uni-Max Revolution™ not only improves the efficiency of your CNC machines, but also your bottom line. Unist systems routinely eliminate the need for flood coolant while also significantly increasing tool life and feed rates. Fluid disposal costs are now a thing of the past, and overall production costs can be reduced by up to 15%. Since the lubricant application is so minimal, your chips will be dry and ready to recycle without any further processing. Now that is revolutionary!
Uni-Max Revolution™ & M-Codes
Designed to be programmed from M-codes, the Uni-Max Revolution™ allows the operator to precisely control the amount of fluid being dispensed for each job. Featuring two independently controlled fluid applicators and an air blow-off nozzle for chip removal, the Uni-Max Revolution™ allows you to dispense the lubricant exactly where needed, in the amount needed – down to 0.20 ounces (6mL) per hour. Whether it's being applied through the cutting tool or an external nozzle, the Uni-Max Revolution™ is the ultra-precise lubrication system that will take your CNC machine to new levels of performance.
[/tab]
[tab title="Machine Integration"]
Horizontal or Vertical CNC Machining Centers
The Revolution™ can be installed on a machining center to dispense MQL lubricant to the cutting tools in the most effective way possible. Depending on the machine, this can be done externally through a spray nozzle, internally through tools with oil holes, or a combination of both.
2-Channel Through The Spindle
Separate lubricant and air lines connect to a 2-channel rotary union
Lubricant and air are mixed together just before the tool holder
Near-instantaneous changes in fluid output at the cutting tool
Requires a Unist MQL rotary union
Requires tools with oil holes
2-Channel Coaxial to The Spindle or Coolant Inducer
Lubricant line is run in a separate tube inside the air line
Lubricant and air mix together just before the spindle
A slight delay before fluid output changes are seen at the cutting tool
Often works with the rotary union on the machine
Requires tools with oil holes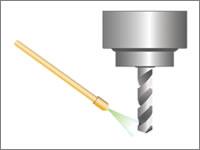 External Spray Nozzle
Easiest to install
Instantaneous changes in fluid output at the nozzle tip
May need adjustment for varying length tools
Only option for tools without oil holes
[/tab]
[tab title="Specifications"]
MQL Application
Two independent 2-channel (separate air and oil) MQL outputs allow for instantaneous response to changes in output quantity
User selectable maximum oil output from 10-255 drops/minute (0.33-8.42 mL/minute)
Oil delivered in programmable steps of 25, 50, 75, or 100% of maximum output setting
Proven Unist positive displacement oil pumps
MQL air flow electronically controlled with proportional flow valves
Optional pulsed air blow-off nozzle for chip removal with electronically adjustable frequency (1-255 pulses/minute) and duty cycle (1-100%)
Programmability
Three M-code inputs available to control two independent MQL outputs and a pulsed air blow-off nozzle
Works with pulsed, confirmation, or latched M-code signals from dry contact M-code inputs
Isolated SPDT alarm relay (2 amp maximum load)
Alarms
Audible/Visual alarm and an alarm relay output
Supports alarms for:

Low air pressure via integrated air pressure sensor
Low fluid/No fluid flow (with optional oil flow sensors)
General
2 quart (1.9 Liter) polyethylene oil reservoir with integrated low-level switch
20 character, 4 line LCD display
Tactile membrane switch user interface
NEMA type 2 enclosure
24 VDC power input(1.5 amps maximum current)
Password-protected lock on control panel to prevent tampering
Options
Oil-flow sensors
Auto-refill of reservoir from a pressurized central fluid supply
Pulsed air blow-off nozzle
Dimensions
14.3″ (363 mm) Height
6.7″ (170 mm) Width
8.28″ (211 mm) Depth
[/tab]
[tab title="Photos"]
Click a photo to see a larger version.
[/tab]
[/tabs]